Profile

Free Account
Created on 2016-12-29 20:37:13 (#2656112), last updated 2016-12-29 (38 weeks ago)
4,832 comments received, 0 comments posted
1,052 Journal Entries, 0 Tags, 0 Memories, 6 Icons

About
| | |
| --- | --- |
| Name: | violetsnvalium |
| Birthdate: | Jun 20 |
| | |
| | |

Mini Bio
"I used to think I had a superiority complex. I finally figured out I'm just better than everyone else." - Princess Mari
Once upon a time, in a land far, far away, there was a beautiful maiden, and her name was Princess Mari. And Princess Mari walked to the top of the green hill and said, "Lo! For now I am the true Princess, and I shall send immortal messages to heaven, where hopefully they will reach Patsy Kelly, and all must bow down before me." And all bowed down before Princess Mari, and Princess Mari went shopping. And then Princess Mari told some people about Patsy Kelly, and they were boredeth, and they wept. But Princess Mari cried "Fie!" and cared not, and spun her message of Patsy Kelly about the world, quite like candy-floss (in that it stuck everywhere and was pink and annoying), and everywhere that Princess Mari went to tell her story, the people broke down and sobbed. The tears of the people flowed down to the river where a red-painted boat shimmered and scattered and sailed, and Patsy Kelly stood on the boat, and Patsy Kelly said, "Hey, what's going on? I'm dead." And Princess Mari said, "It's called poetic licence." And then Princess Mari watched one of the old movies with Patsy Kelly tapdancing, and Princess Mari called "Shake it, Patsy!" to the TV, and Patsy Kelly did shake it. And Princess Mari screamed "Shut up with your 'Oh, God's or we'll kill you! Milk or no milk!" You see, Princess Mari was being crazy, and also unoriginal. And Princess Mari also dislikes the fact that the Interest bit strips off all of her capital letters. Life wouldn't be worth living without good grammar, and Patsy Kelly movies.
And zen we srow ze sheekahn sondweesh! Hhhere ees ze drhag, see hhow eet goes/Down on ze hhheels, up on ze toes.
"To look as attractive as possible is a duty which every woman owes not only to herself, but to those around her... It is all a matter of determination, and if sometimes you get weary and feel inclined to give up striving, think of these words: 'It is easier to go down the hill than to climb up.
But the view is from the top.
'" ~ The Home Book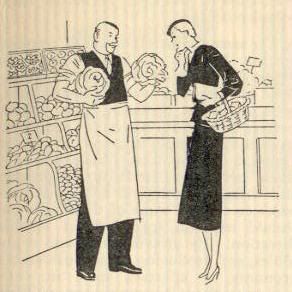 What are you talking about? I don't bear any grudges. I offer olive branches all the time. But I will keep the olives. For me. For my martini.

Connect
1940s
,
8 femmes
, acting all gemini,
all about eve
, all the lavender ladies,
alla nazimova
, amusing terms of affection, anouk aimée, aprons and sunshine, audrey hepburn's neck,
ava gardner
,
being a drama queen
, being a hypochondriac,
being bitchy
, being egocentric,
being fabulous
,
being ladylike
,
being pretentious
, being resplendent, being unintelligible,
bette davis
, boom chicka wah wah!, breezily equivocating, callas forhhhrrevehhrr, calling people "cranberry", calling people "lili marlene", capucine,
carter burwell
,
catherine deneuve
,
catherine keener
,
cats
,
chopin
,
contradictions
,
courteney cox
,
cristal connors
, daisies... in green pastures,
debauchery
,
diamonds
, dippin' into the honeypot,
disdain
, dissoluteness, doing the drag,
doris day
,
double entendres
, dramatic swoons, dying in daffodil light,
ella fitzgerald
,
etta james
, fanny ahhh! ahhhhhh! ahhhhhhrrrdahnt!,
feeling superior
,
film noir
,
fireworks
, fleeing in the night,
foppery
,
frances mcdormand
,
gallantry
,
gesticulating
, getting all political, getting stalked by juliette,
gilda
,
gina gershon
, girls named "pongo", gleeful fits of giggling, gymnastics on my own,
hats
,
high heels
, hissy fits, holidaying nebulae,
holly hunter
, honeysuckle & jazz, hot-tap-only showers,
irritating people
, judith anderson,
julia roberts
,
katharine hepburn
, kess!!,
laura innes
,
lauren bacall
, le bel esprit!, let's get biblical?, lighting touchpaper & retiring, lilyan tashman, lizabeth scott, lola lane, looking permanently snooty,
luis buñuel
, lying on pianos, marjorie main,
marlene dietrich
,
melodrama
, mesmerising ladies named amélie,
movie scores
, movies money and mmpussy, my ohsodelicate nature, my tennis lady,
navel-gazing
, neil labute, oh really dahling!, ohhh... lola, ona munson,
overreacting
,
pablo neruda
,
patsy kelly
,
pearls
,
peggy lee
,
pink martini
, pretending to be fabulouslywonderfullyenlightened, princess mari,
quantum physics
, quick comebacks, red chanel lipsticks,
rita hayworth
,
robert altman
,
saint-saens
, sandy dennis, saying "fiddlesticks!", secretly watching people, self-aggrandisement,
self-indulgence
,
semi-colons
,
shabana azmi
,
showgirls
, shrieking petulantly, sighing fondly and wistfully,
simona amanar
,
sophia loren
,
southern belles
,
spotlights
, surreptitious tapdancing,
susan sarandon
, ségolène royal,
talking a lot
, talking like elvis,
tallulah bankhead
, tapdancing patsy, the-higher-the-hair-the-closer-you-are-to-god,
tongue-in-cheek
, translating everything into tennis/astrophysics, unnecessary theatrical mannerisms, using long words,
vanessa redgrave
, videos with reversible covers,
virginia woolf
,
vladimir nabokov
, vodka in the undern, wallowing in cheap sentiment, waxing rhapsodic, what the hay!, zsa zsa gabor

People
[View Entries]

[livejournal.com]
10yroldwhizkid
,
abstractmyheart
,
aetia
,
ambrent
,
aphonik
,
art-disease
,
audrey-rugburn
,
avecvu
,
babygilda
,
baroque-poison
,
battiades
,
beeswing
,
blackplayground
,
brokenblossom
,
caffeinebomb
,
ceteranna
,
cheapmetaphor
,
damnitpc
,
darkling-thrush
,
delia-deville
,
dihard
,
doughball-reads
,
dr-tectonic
,
emer-the-lemur
,
emmavescence
,
enzed
,
ex-jenny-dre263
,
flightyone
,
gabba-gabba-hey
,
heebie-geebie
,
hellogorgeous
,
hommeboy
,
idefixlechat
,
insulanova
,
jenny-dreadful
,
joemorf
,
jourdannex
,
justalilboygirl
,
lawsofeden
,
littlelamb
,
lynn9mckenzie
,
malinconia
,
metropoledancer
,
nerweniel
,
no1knows-its-me
,
oneirocritical
,
otioseandtrite
,
pertranslated
,
petticoat-tails
,
plaidder
,
redheadedjuliet
,
rockofgibraltar
,
september-cohen
,
seralu
,
several-bees
,
shirabyoshi
,
smartorialist
,
soozydooz
,
stella-cometa
,
stelladellasera
,
theda
,
totalximmortal
,
une-femme-est
,
vanillaivy
,
violetinia
,
violettavalery
,
warsawpact
,
wellsheeyit
,
whereisorlagone
,
wordspotter
,
zeldar

[users.livejournal.com]
--zeitgeist

Communities
[View entries]

Feeds
[View Entries]

Subscriptions (0)

Linking
To link to this user, copy this code:
On Dreamwidth:
Elsewhere: